Church Family,
I hope you and your family are doing well during this season of change and challenges. As we move forward we are beginning to make plans to return to worshipping together on campus. We will also be continuing our online Worship each week, so you can join us on campus or on line. We know that one day we will return to our normal schedule but now is not that time. Below you will see the upcoming phases for our re-opening.
The Ministry Phases are prepared to provide direction for our various gatherings and ministries. We will begin with Phase One on Sunday, May 24th. We will move to each phase based on the decision of our leadership and the current COVID situation within our city and county.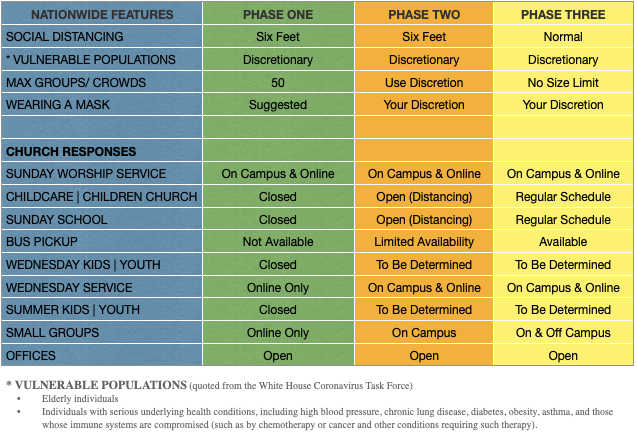 We will also be implementing various changes to our gatherings in phase one.
Social Distancing
Limited Seating
Offering Box
Hand Sanitizing Stations
No Bulletins or Handouts
Adjusted Worship service.
Mask are recommended for coming and exiting
Everyone will be ask to fellowship outside with social distancing
Ushers will be asked to wear mask and gloves
Limited entrances and exits. Doors will be opened.
Even though we will offer the opportunity to worship on campus, we are aware that many will choose to remain at home and worship online. Please use your discretion in regards to attending services based on your personal and family needs. You can join us online or on campus, either way your involvement is a great encouragement to all of us. If you have any questions, please contact me at pastor@esbchurch.com.
Worship Opportunities in the Coming Weeks
Message by Phone – 851-1886
On Campus – Begins Sunday, May 24th
Online on Facebook or https://eastsedalia.online.church
Financial Giving
I want to thank everyone for their faithful and generous financial giving during this COVID season, as we shoulder the load together to continue our mission to reach and serve the community around us. You can still mail your tithes and offerings to the church office, drop them in the offering box on campus or bring them to the church office.
Church Office
Our offices hours are Monday – Thursday (8:30am – 12:30pm). You can reach us by phone at: 660-826-3887. We would be glad to assist in anyway, Currently Melody Smith and Jill Pulliam are serving in the office after Vonna left the position.